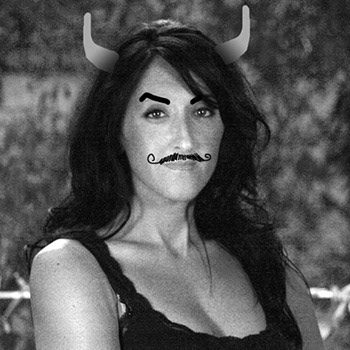 Every job is different, every organization is different, every human I work with is different and every group of humans I work with is different. The process is always organic, and is defined once you've met everyone and begun working together. The part of my process that remains consistent is discovering who I work with and learning how to work with those humans. The rest just happens. 

I work with agencies, studios and entrepreneurs within entertainment, e-commerce, technology, automotive and finance. I spin that vinyl still, as well as digital formats of all things house music. Having nothing to do with my formal education and work experience I'm also quite knowledgable in the nutrition and fitness arenas, and dabble in neuroscience for fun.
Additional ways to discover and connect:
Here are a few brands I've worked with:

VISUAL DESIGN & UX EXPERIENCE
Visual Designer (2014 - current)
VIVA RECORDINGS, CITRUSONIC PROMOTIONS
Provide visual designs for print collateral, label artwork for new releases, artist promos and supporting graphics
Lead UX and Visual Design Consultant (Sept 2014 - current)
Product design for various automotive and e-commerce mobile and desktop brands; design A/B tests for in-product tools (chat features, payment calculators, style selectors); design mobile landing pages for in-product conversion; conceptualize user experience design for new feature rollouts
UX and Visual Design Consultant (July 2013 – Sept 2015)
Working with FivebyFive's clients Ubisoft and Guthy Renker, I created user experience documentation and visual designs for various mobile and desktop products
Visual Design Consultant (June – Aug 2013)
Led the visual design overhaul for QueenLatifah.com (now cancelled)
U

X and Visual Design Consultant (Nov 2009 – Apr 2011)
Aided increased lead and sale conversions for products TurboTax® and Quicken®; worked with Intuit's in-house creative team to develop new visuals and refresh existing visuals for A/B testing.
Visual Design and Art Direction (Dec 2009 – Dec 2012)
Created user experience documentation and designs for web and mobile-based applications
Youth DJ Workshop Coordinator/Instructor (May 2016 - July 2016)
Facilitated DJ workshops for youth between partnering non-profits and guest artist instructors
Instructor (Los Angeles, CA)
Lectured and contributed to course material for three courses; Basic and Advanced Photoshop, and Multimedia/Internet
MIDI Lab Specialist (Aug 2002 - Aug 2003)
Assisted Recording Arts students in the lab environment with the basic and advanced concepts of MIDI and digital audio using a DAW, various hardware modules and software synths
Web Design Lab Specialist (2002 - 2002)
Assisted Digital Media students in the lab environment with fundamental and advanced concepts of web design using Adobe Photoshop, Dreamweaver and Flash to concept, design and construct web sites
Berklee Music (Boston, MA)
Music Production Analysis, Producing with ProTools

Full Sail (Winter Park, FL)
A.S., Digital Media, 
A.S., Recording Arts
Audio:
Ableton, ProTools, Logic Pro, Native Instruments, Pioneer, DAWs, signal processing, editing, mixing
Design

:
Adobe CC Suite, Sketch |
User Experience:
Omnigraffle Pro, Sketch, Axure
Collaboration:
Asana, Slack, Harvest, Basecamp, InVision, Zeplin